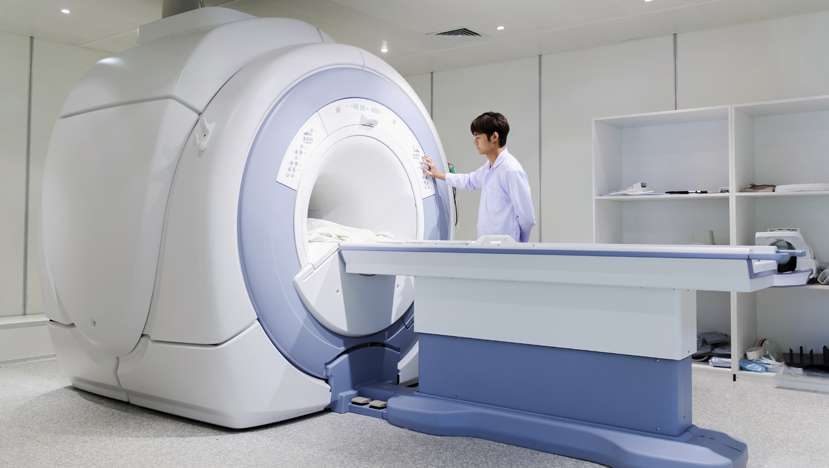 Diagnostic Testing
Healthpointe provides the full range of diagnostic testing, including x-ray, magnetic resonance imaging (MRI), electromyography (EMG) and computed axial tomography (CT). All testing procedures are performed by highly experienced and certified technicians and are integral to the diagnosis and treatment of occupational injuries and diseases.

---
X-ray
Our centers have state-of-the-art x-ray equipment, staffed by certified radiologic technicians. X-rays provide immediate access to critical diagnostic information in the event of injury, saving time, facilitating treatment, and documenting the immediate aftermath of an injury.

---
MRI
Magnetic Resonance Imaging, or MRI, is the method of choice for the diagnosis of many types of injuries and conditions because of its ability to tailor the exam to the particular medical question being asked, with an unparalleled view of the human body. Because it can make detailed images of internal body structures, such as the spine, joints, brain, and other vital organs, without the use of x-rays or any other form of radiation, it can be used over the course of treatment and recovery to document the patient's progress. The technology enables physicians to detect diseases or abnormalities in early stages of development, which is the key to curing many diseases. MRI is an integral part of our occupational medicine program, available to patients upon physician referral.

---
EMG
The electromyography, or EMG, examination is a diagnostic examination of both nerve and muscle function, a key tool in occupational medicine cases involving both injury and disease.
Nerve conduction studies are performed by placing discs on the skin over nerves and muscles and then recording the responses to electrical stimulation of the nerves. The nerves are stimulated with mild electrical impulses. The EMG measures the speed of electrical signals as they travel down the nerves. How fast the muscle responds gives the physician information about how the nerve is working.
Muscle testing involves direct recording of muscle activity both at rest and during contraction by inserting a small needle into various muscles—no electrical shocks are given—the needle picks up the electrical activity generated normally by the muscle.
The major uses of these electrodiagnostic tests are to diagnose pinched nerves, ruptured discs, carpal tunnel, cubital tunnel, tarsal tunnel, or muscle diseases. More uncommon disorders like myasthenia gravis (which causes weakness), muscular dystrophy (which causes muscle to waste away), or ALS (Lou Gehrig's disease) are also diagnosed by EMG and NCV studies.
The EMG examination is safe, well tolerated, and involves only minor discomfort. It provides important information, including documentation of disability, for many problems that may be occupational in nature.

---
CT Scans
Computer tomography, or CT scanning, combines special x-ray equipment with sophisticated computers to produce multiple cross-sectional images of the area of the body being studied. CT scans of internal organs, bone, soft tissue and blood vessels provide greater clarity and reveal more details than x-rays. For this reason, they are commonly used to help diagnosis complex medical conditions. CT scans are particular useful for diagnosing cancers, cardiovascular disease, infectious disease, and musculoskeletal disorders.
CT scans are ordered by our physicians if there is a need for more in-depth information about a patient's presenting problem. They are scheduled through one of our contracting facilities, and reports are included in patients' medical record, making them available to our clients.

---
Diagnostic Testing in Orange County, San Bernardino and Los Angeles County:
Diagnostic Testing in and near Anaheim
Diagnostic Testing in and near Colton
Diagnostic Testing in and near Corona
Diagnostic Testing in and near Garden Grove
Diagnostic Testing in and near Irwindale
Diagnostic Testing in and near La Mirada
Diagnostic Testing in and near Long Beach
Diagnostic Testing in and near Los Angeles
Diagnostic Testing in and near Ontario
Diagnostic Testing in and near Perris
Diagnostic Testing in and near Temecula
---
Contact Healthpointe Today!
HEALTHPOINTE offers comprehensive evaluations and treatments for all your occupational medicine and related needs. To talk to one of our doctors, please schedule an appointment today!