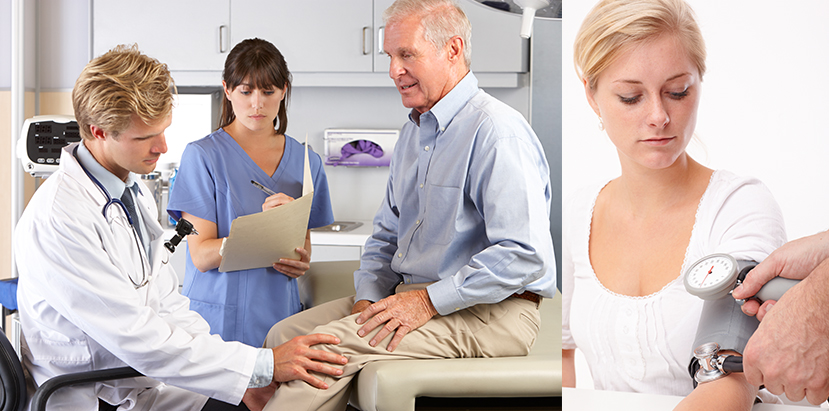 Pre-Employment Physicals and Screenings at Healthpointe
Healthpointe's pre-employment physicals ensure that employees are physically capable of performing the demands of the job. Through cost-effective examinations, Healthpointe's occupational medicine specialists can help minimize on-site incidents and prevent or reduce future work-related injuries.
On the job success relies on matching the right candidate with the right position, Healthpointe's pre-employment physicals and screenings helps to do just that in an effort to diminish work-related injuries, illnesses, and fatalities while maintaining an optimal standard of mental and physical performance.
Healthpointe medical examinations utilize some, if not all, of the following components:
Complete occupational/medical history
Musculoskeletal examination
Evaluation of the respiratory system
Gastrointestinal examination
Examination of head, eyes, ears, nose, and throat
Skin and lymphatic examination
Neurological evaluation
Evaluation of the cardiovascular system
Visual acuity test
Urine dip test
Audiology testing
Pulmonary function test
Employee physicals can occur at various times before and during employment. The following specialized examinations meet the needs of most of our clients and are available through Healthpointe. In addition, we can develop a customized program to meet your company's specific needs.

---
Screening and Exam Types Include :
Pre-Placement Physicals
Pre-employment physicals save employers time and money by ensuring that a new-hire can perform their duties in a safe and productive manner. Healthpointe's physicians reviews each patient's medical and occupational history prior to the examination.

---
Executive Physicals
Designed to accommodate the busy lifestyles and work schedules of executive employees, executive physical exams are presented to employers who wish to keep their key executives in top physical condition. As a comprehensive exam, the executive physical includes, but is not limited to, blood work, full body CAT scans, vision and hearing tests, vascular age tests, urinalysis, and heart disease diagnosis.

---
Regulatory and Compliance Examinations
Regulatory and Compliance Examinations help establish a medical baseline for employees in accordance with the appropriate regulatory agency (Department of Transportation, OSHA, etc.). Healthpointe performs periodic medical monitoring when indicated.

---
Fitness-for-Duty Examinations
Fitness-for-Duty Examinations help confirm that employees can meet the physical capabilities demanded by the position.

---
Employee Wellness Examinations
Employee Wellness Examinations help establish baseline medical information as part of a company's voluntary health and wellness initiatives. Employee wellness is a key element in the productivity of an organization. We help set the standard by performing examinations and reporting critical data to company health directors.

---
Drug Testing and Screening
Drug Testing and Screening also referred to as substance abuse and monitoring services—is a key component of many companies' risk management program. Healthpointe provides "Rapid Test" products for faster on-site testing and results. Employers can set up customized accounts and reporting plans for each work location.

---
Pre-Employment Physicals in Orange County, San Bernardino County, Riverside County and Los Angeles County:
---
Contact Healthpointe Today!
HEALTHPOINTE offers comprehensive evaluations and treatments for all your occupational medicine and related needs. To talk to one of our doctors, please schedule an appointment today!