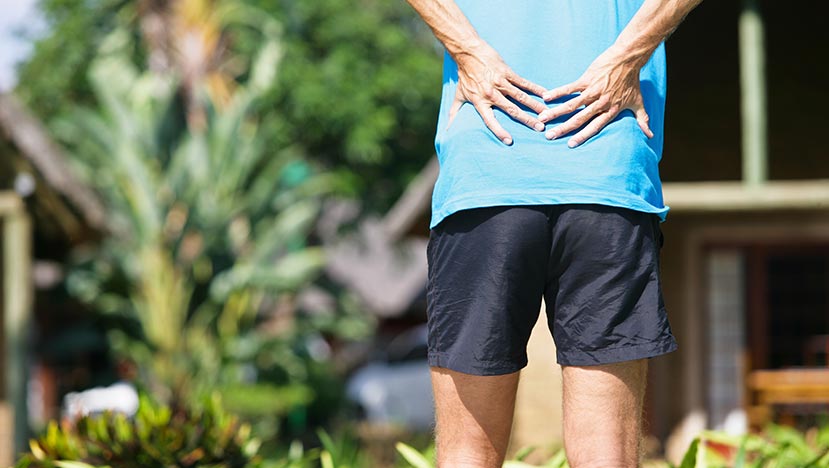 Degenerative Disc Disease
Degenerative Disc Disease (DDD) is a common disorder of the cervical and lumbar spine that causes back pain. This condition refers to the gradual deterioration of discs between the vertebrae that ultimately causes loss of normal structure and/or function. The discs in our spine are significant as they provide versatile support to our back while permitting us to flex, bend and twist. As we age, these discs soon degenerate, thereby limiting range of motion and the ability to perform labor duties due to pain and muscle weakness.
This condition is common amongst labor workers between the ages of 30 to 50, especially those who exert their back vigorously. It is also common amongst individuals who are 60 years old or above. DDD is usually accompanied or have originated from a disc herniation, and often leads to osteoarthritis.

---
Causes
DDD is most often caused by the aging process. Our discs begin with at least 80% of water in order to maintain our spine's resilience and endurances, but as we age, our discs begin to lose that water and fluid on our discs. Without a sufficient amount of water, our discs wither, which consequently diminishes the ability to provide cushion to the spine. This leads to pain, aches, numbness, etc.
A herniated disc is also a cause of DDD. The compression of discs causes a bulge (herniated disc), but it also hastens the degeneration of the disc as well. Any spinal injury or trauma may also lead to DDD, especially if the spine were to be fracture.
Other causes include excessive weight (being overweight adds pressure to the spinal discs), heavy labor work (repetitive spinal movement and heavy lifting increases the risk of DDD) and smoking.
---
Symptoms of Degenerative Disc Disease
Symptoms accompanied with DDD vary from person to person. Below is a list of common symptoms that are commonly found in most individuals suffering from DDD:
Pain in the cervical and/or lumbar spine.
Radiating Pain, Numbness, weakness and tingling in the upper and lower extremities (shoulders, arms, hands, legs, etc.)
Aching or disabling pain when sitting, walking, bending, lifting or twisting
---
Treatment
Minimally-invasive options are preferable as a means of treating DDD. Physical Therapy, Chiropractic Care, Non-steroidal anti-inflammatory medication, and the utilization of rest, heat and/or ice are all known to have successfully provided significant relief for patients with DDD. However, if all of the above treatments fail to provide any relief, then surgical intervention will be considered. HEALTHPOINTE's renowned spinal surgeons are fully trained and equipped to successfully perform all the complex surgeries needed to treat your Degenerative Disc Disease, including but not limited to: Anterior Cervical Discectomy with Fusion, Intervertebral Disc Arthroplasty and Artificial Disc Replacement.

---
Healthpointe has top-of-the-line physicians and surgeons who are trained to provide treatment for back pain and its associated symptoms.

---
Degenerative Disc Disease Relief in Orange County, San Bernardino County, Riverside County and Los Angeles County:
---
Contact Healthpointe Today!
HEALTHPOINTE offers comprehensive evaluations and treatments for all your orthopedic and related needs. To talk to one of our doctors, please schedule an appointment today!