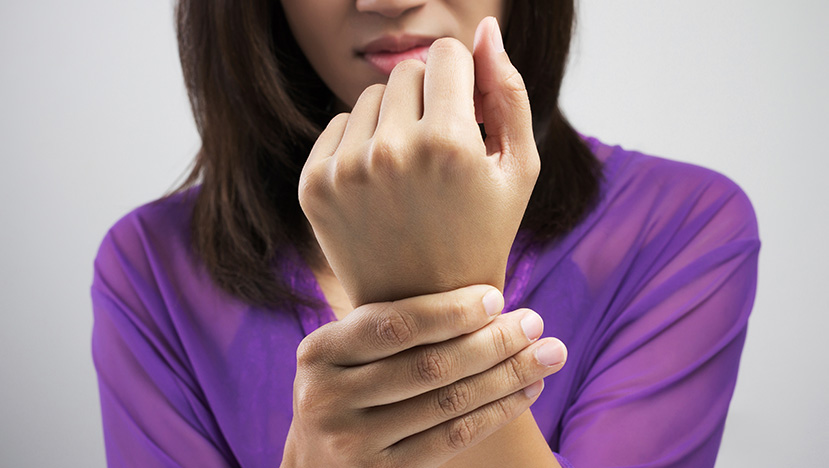 Dolores de Mano y Muñeca
La mano y la muñeca trabajan en conjunto para permitir un movimiento fluido y proporcionar la importante capacidad de agarrar objetos. Los dedos contienen numerosas terminaciones nerviosas y proporcionan una amplia retroalimentación sensorial al cerebro. Las manos y las muñecas desempeñan un papel importante en todo, desde interacciones diarias como agarrar objetos, practicar deportes y escribir, hasta funciones especializadas que incluyen lenguaje de señas, lenguaje corporal y mucho más. Por estos motivos, es muy importante que cuide sus manos y muñecas y se asegure que funcionen a su máximo rendimiento.
Tanto las manos como las muñecas son susceptibles a diversas lesiones, condiciones y enfermedades. Las personas que tienen problemas con las manos o las muñecas a menudo experimentan dolor, molestias, limitaciones en su rango de movimiento, y movimiento restringido en sus tendones y músculos. Aunque las lesiones en la mano y la muñeca pueden ser temporales, a menudo pueden requerir, o beneficiarse enormemente, de una cirugía.
---
Afecciones
Afecciones comunes de la mano y la muñeca incluyen:
---
Causas Generales
El dolor de la mano y la muñeca es a menudo causado por los movimientos repetitivos de las tareas cotidianas, como escribir, teclear, practicar deportes o hacer ejercicio. Las lesiones por impacto pueden causar esguinces, torceduras y fracturas en la muñeca y la mano, y pueden ser dolorosas pero difíciles de detectar.
El envejecimiento también juega un factor, ya que puede aumentar la probabilidad de enfermedades y condiciones, como la artritis, los quistes y el síndrome del túnel carpiano, todos los cuales pueden tener efectos adversos en las manos y muñecas. Existen numerosas enfermedades y condiciones que pueden causar daño considerable en las manos y muñecas; cualquier lesión en la mano o la muñeca debe ser examinada por un médico para determinar si es necesario un tratamiento adicional.
---
Healthpointe has top-of-the-line hand and wrist surgeons who are trained to provide treatment for hand pain and associated symptoms.
---
Healthpointe cuenta con cirujanos de primera mano para las manos y las muñecas que están capacitados para brindar tratamiento para el dolor en las manos y los síntomas asociados.
---
¡Contacte a Healthpointe Hoy!
HEALTHPOINTE ofrece evaluaciones y tratamientos completos para todas sus necesidades ortopédicas y requerimientos relacionados. Para hablar con uno de nuestros médicos, por favor ¡programe una cita hoy!